Recharge your candlelight
Candle lit dinners,
without the fire hazard.
We don't compromise on design and quality, that's why our lights are also perfectly suited for a professional environment. All our products are designed to be easily serviced and their big batteries won't leave you in the dark.
A candle-lit dinner, but different. Used by professionals in public spaces or the hospitality industry instead of candles, the Humble One eliminates fire hazards and black ceilings. The lights can be controlled by an RF remote: up to 1000 lights will work simultaneously within a range up to 10 meters. Up to 48 lights can be charged simultaneously on our stainless steel charging carts, but as you have up to 140 hours of light on a single charge due to the durable battery, this isn't a frequent task.
Candle costs
A high quality project candle costs roughly 0,30 euro and lasts two nights. On average a restaurant is open for 6 nights a week, total 312 nights. The total candle-cost per year is therefore: Total 312 x 0,15 x 40 = € 1872
Comparing the two, Humble has a higher initial investment, but already after 1 year and 9 months you start to save money. And then we've not even started talking about the fire hazard, black ceilings and amount of candle waste you're saving…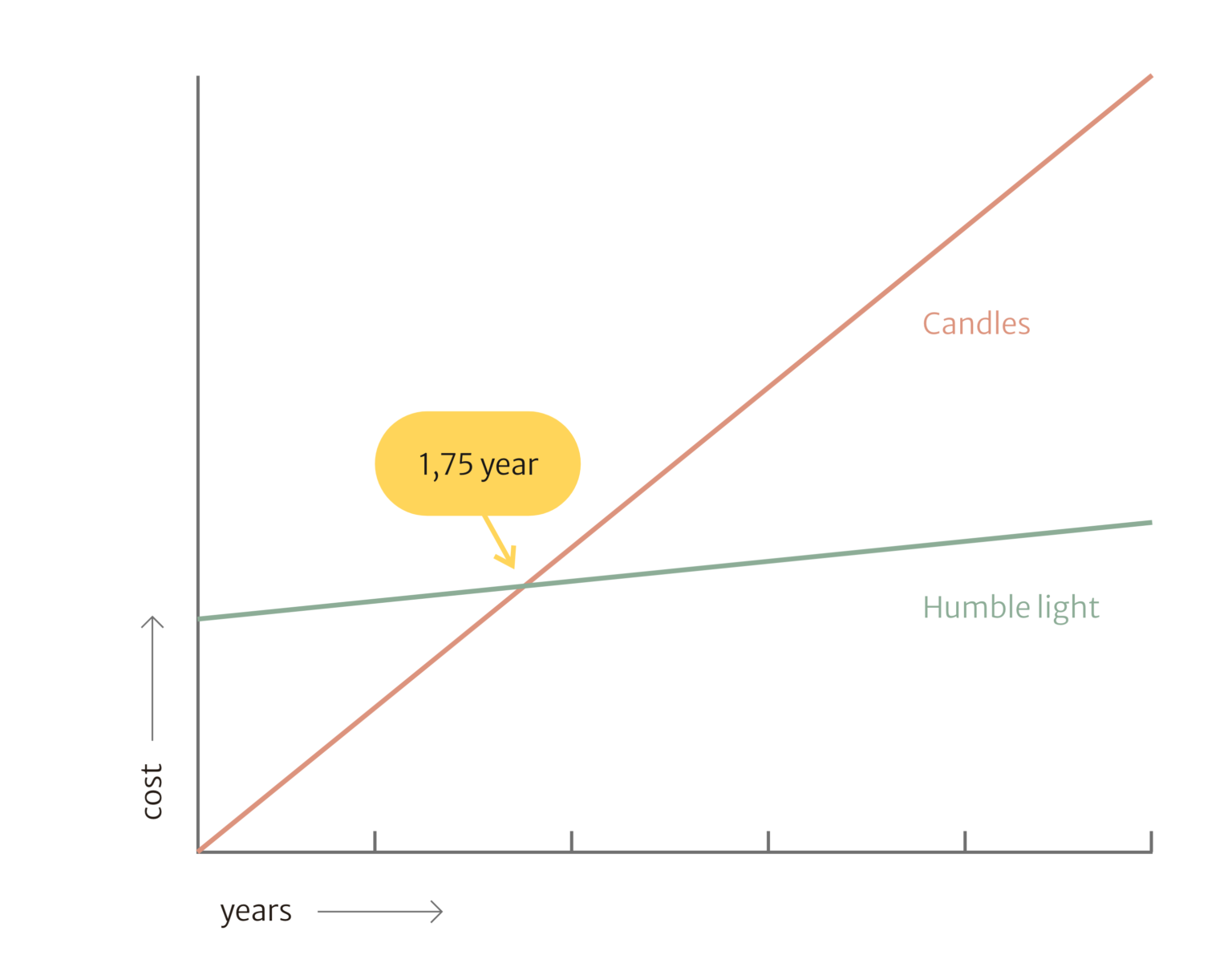 All our lights can be charged wirelessly, so no cable hassle necessary. We offer a Six Charger that fast charges up to 6 units simultaneously. It's tested for heavy duty use and has a durable, black bamboo outer casing. After 4-6 hours all your lights can go another round. Depending on the brightness setting battery life per unit can vary between 40 and 140 hours. On average, charging needs to be done roughly once or twice a week.
Can I control them with a remote?
Yes, you can. We offer a not-so-humble remote that can control up to 1000 lights simultaneously within a 10 meter radius. Really handy if you have a big space where you want to control the mood instantly. It even let's you display the battery level on all your units for 10 seconds.
Humble lights are a great solution for your business. Bars, restaurants and hotels can recoup their investment within as quickly as 2 years. Without burning through heaps of candles each night…